Celebrate your life. Give your family the gift of your life story - they will love it.
Autodotbiography makes it incredibly easy to write your life story. Your memories are precious – don't keep them a secret.
Have a look how it works
Watch this video to see how it works. Anyone can create a beautiful book using this system.


Age Scotland has partnered with autodotbiography to help you love later life and share your precious memories in a beautiful book. A donation of £50 is made to Age Scotland on every purchase made via their website.
Thrilled with the results
Scotsman John Strachan and his family talk about their experience of using autodotbiography (click here).

Retired police inspector Robert G from Norfolk sees his autodotbiography for the first time (see his reaction).
Retired marketing director from London, Mike C's reaction to his book (see it here).
Saga Magazine review says:
"So, that's two books on my shelves I'll treasure above all others. First our family bible with names going back to the 1810s and My Life written by my Brilliant Dad." See full feature

Buy it now
£250
*Additional P&P for non UK
Your autodotbiography keeps your memories safe for your family.
The gift of your lifetime.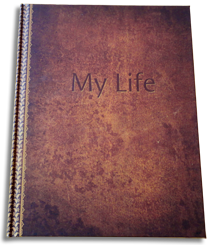 Buy it now