Walter's adventures come alive
---
The thing about staying in a B&B is that you get to meet the other guests at breakfast. So, after a good night sleep in a huge, comfortable bed, the next morning I shared the breakfast table with a group of fellow travellers. Two young married couples from America and a middle aged couple from New Zealand. Cook Mansion is rightly proud of their 'full English breakfast'.
I explained about our journey to my fellow diners.
Then Paul and I walked down the street to the Museum.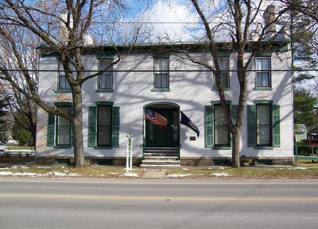 Andrew Tompkins turned out to be a charming chap who is extremely knowledgeable about Schuyler history and kindly let me film him talking about Havana when Walter was there. He was suffering from a bad dose of bronchitis and had come in despite feeling poorly.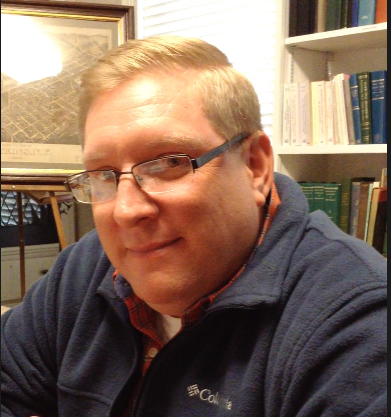 He had a file of papers and produced fascinating document after fascinating document.
He also told us how the town came to be called Havana and why it was changed to Montour Falls.
The story goes that a surveyor was working in the area and said to his colleague that the heat and the mosquitoes reminded him of Havana. The colleague made a note on the map and thus this annotation became the name of the town.
But years later, in order to celebrate the 'Queen' of the area Catherine Montour - a native American married to a French man, who spoke her own language, as well as English and French - the town changed its name.
Apparently, during the war of independence she chose to support the British and that made her, and her tribe, a target for the rebellion. She was chased out of the area. But listening to Andrew it is clear that the area is proud of her and pleased to celebrate her part in the town's history.
He produced pictures of the town at the period when Walter was there. He told us about the Chemung canal which cost a fortune and didn't produce any returns for the investors.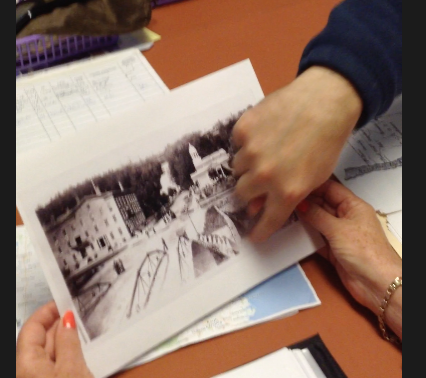 Then he revealed, to my delight, an Havana bank dollar note which would have been in circulation when Walter was working there.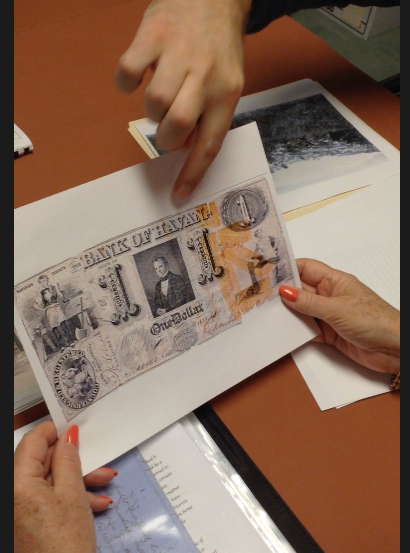 He told us he had been in contact with Chemung County Museum and had told them to expect a visit from a 'mad Englishwoman'.
I loved Andrew's enthusiasm for history and his warm character. He had done a lot of work to help me and I really appreciated the effort he had made. It is a lovely museum well laid out with a great many antique pieces illustrating life in the 1800s and I recommend a visit if you are the slightest bit interested in history.
Jennifer Sheahen from WENY-TV decided not to film Andrew, which was a shame because he is articulate and fluent about his subject. But I know only too well as a former TV producer it just isn't posible to film everything.
We had a whistle stop tour of the museum because we needed to get to Elmira.
We had a meeting scheduled with Mary Ellen Knust, a local historian based in Elmira, some 30 mins from Montour Falls at the Chemung County Museum at 2.30pm.
We drove down intending to has a bite of lunch downtown, but although we drove around, and around, we couldn't find any obvious downtown area with bars and café's.
I find American towns a bit of a mystery, some of them seem to have a centre that is easy to find with a mixture of shops and bars and cafes and some just don't seem to have any centre. Downtown can be just big offices and car parks. The office workers must eat somewhere but I have no idea where. Elmira was a bit like this but in the end we spotted a lonely but open sports bar and had a snack there.
We arrived at the Museum on time – it is amazing how you can be so accurate on timing your journey – unless there is a crash on the highway. As we drew up, so did Jennifer, and Paul did the decent thing again and carried in her heavy camera bag.
Mary Ellen met us at the entrance.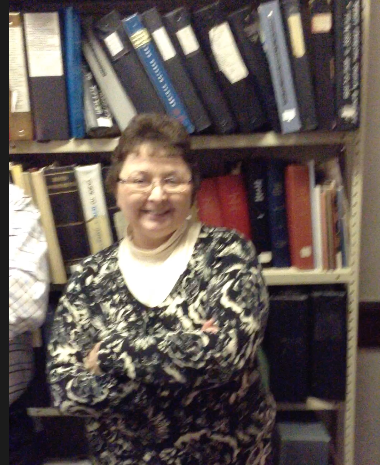 She introduced us to her husband, Ron and Bruce Whitmarsh, director of the museum. Bruce is a handsome bushy bearded chap. He seemed unprepared for the meeting but was very willing to help.
We are taken to a bleak meeting room with cruel florescent overhead lighting and little of interest on the walls. Jennifer is going to have a rather ugly shot.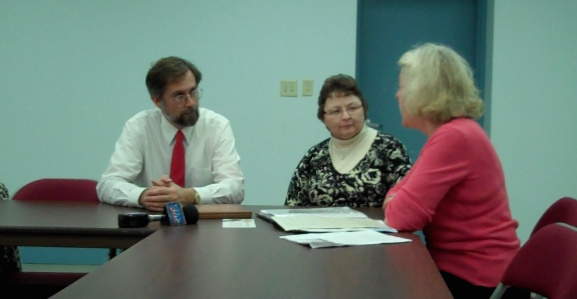 She set up and once again I explain what I am doing to Bruce and Mary Ellen. Now, days later, I am extremely sorry I didn't engaged her husband Ron more in the conversation because he researches historic railways and as Walter travelled a great deal on them it would have been interesting to find out more about conditions on trains in those days. I will get back in touch on my return to the UK.
We do the filming and I discover that Rachel Dworkin, the archivist and the expert on Chemung history, is on jury service and so we won't see her, or the file she has on the Roswell Goff family. Roswell Goff is one of the very few names that Walter mentions in his letters. He built a barn and a grist mill for Roswell Goff and I had hoped we might be able to find them if they were still standing.
Nevertheless, Bruce offers to take us up to the offices and see what he can find. The offices are magnificent, the building was once the Chemung bank building. We walk through the most beautiful rooms with massive solid dark wood doors, fabulous cornice plaster work, packed full of files and boxes. History is falling out of filing cabinets.
Bruce hunts around to find anything he can and Mary Ellen tells us what she knows about the history of the area and then, through the door comes Rachel. She has been released early from the court and has come into work. She is terrific and finds evidence of the Roswell Goff. She hunts through the maps and local files and come up with what could be the location he mentions is where he built the grist mill. It is unexpected, but I feel excited by this musty stuff. Somehow each of these moments brings me even closer to my magnificent great-grandfather.
The next blog will link to Jennifer's report.