Havana - now Montour Falls
---
I haven't quoted much from Walter's letters so far because he only mentions his stay in New York briefly, but from now on I will be including excerpts of his musings on America.
In one of the earliest letters I learn a little about his character.
There is no doubt old fellow but that there are a certain allotted quantity of troubles for each and every one of us to encounter, and I have arrived at the conclusion that in combating with them with a good face, or the matter must be better than holding one's head down at each hill we meet; for myself I have thoroughly made up my mind that come what will (as Mark Tapley says in Martin Chuzzlewit) "I will be jolly under any circumstances" and; that tho' away from home and the dearest ties I have some thousands of miles away my existence must be preferable with as light a heart as I can command to a heavy one.
This is a part of that letter.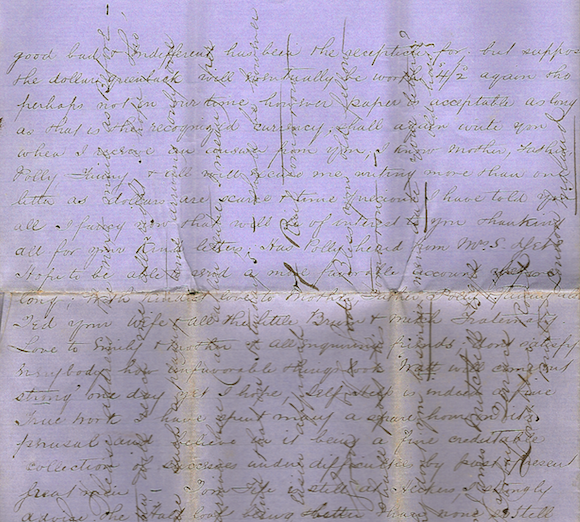 He is determined to have a positive frame of mind. Perhaps that is something that I inherited from him, I am a bit of a Pollyanna, always looking on the bright side.
Then he writes about leaving New York and travelling to Havana about 250 miles north where he stays for a while working as a carpenter.
This is what he says about the journey and whom he is hoping to work for.
"When last I wrote you I was about starting up country in the direction of one of McDonald's friends. After about a day and a night's travelling in the cars (or railway) we arrived at Havana, where we stayed that night, thence proceeded next morning to Catlin Centre, a distance of 9 miles from there to the house of this (before) unseen friend, in perspective who was, or was not, to turn out trumps, as the case might be; In order to explain more fully the description of gentleman our host is, it will be necessary for one to tell you, he has formerly held the rank of colonel in the army here; fills the capacity of "attorney at law", is also presiding over 80 acres of land and a wooden house and rejoicing in the appellation of farmer, possessing the usual complement of ?teams cows sheep etc."
He did a lot of travelling by 'cars' (the railway) and he says this about them after his first experience travelling from New York to Havana.
"Windows in cars push up instead of down; doors longitudinally in carriages and opening from one to another instead of transverse. The engine does not whistle but tolls and immense bell at times. But I firmly believe here railways by their temporary construction and little outlay in formation, wooden braced bridges etc etc are instituted for the passengers comfort and accommodation and not as in England to fill the share holders pockets."
What took him a day and a night took us four hours. The weather is beautiful, blue skies and warm temperatures (69 – 73F) and the roads were clear. Driving in America is done more my time taken than the number of miles. It is extraordinary how accurate the timings are.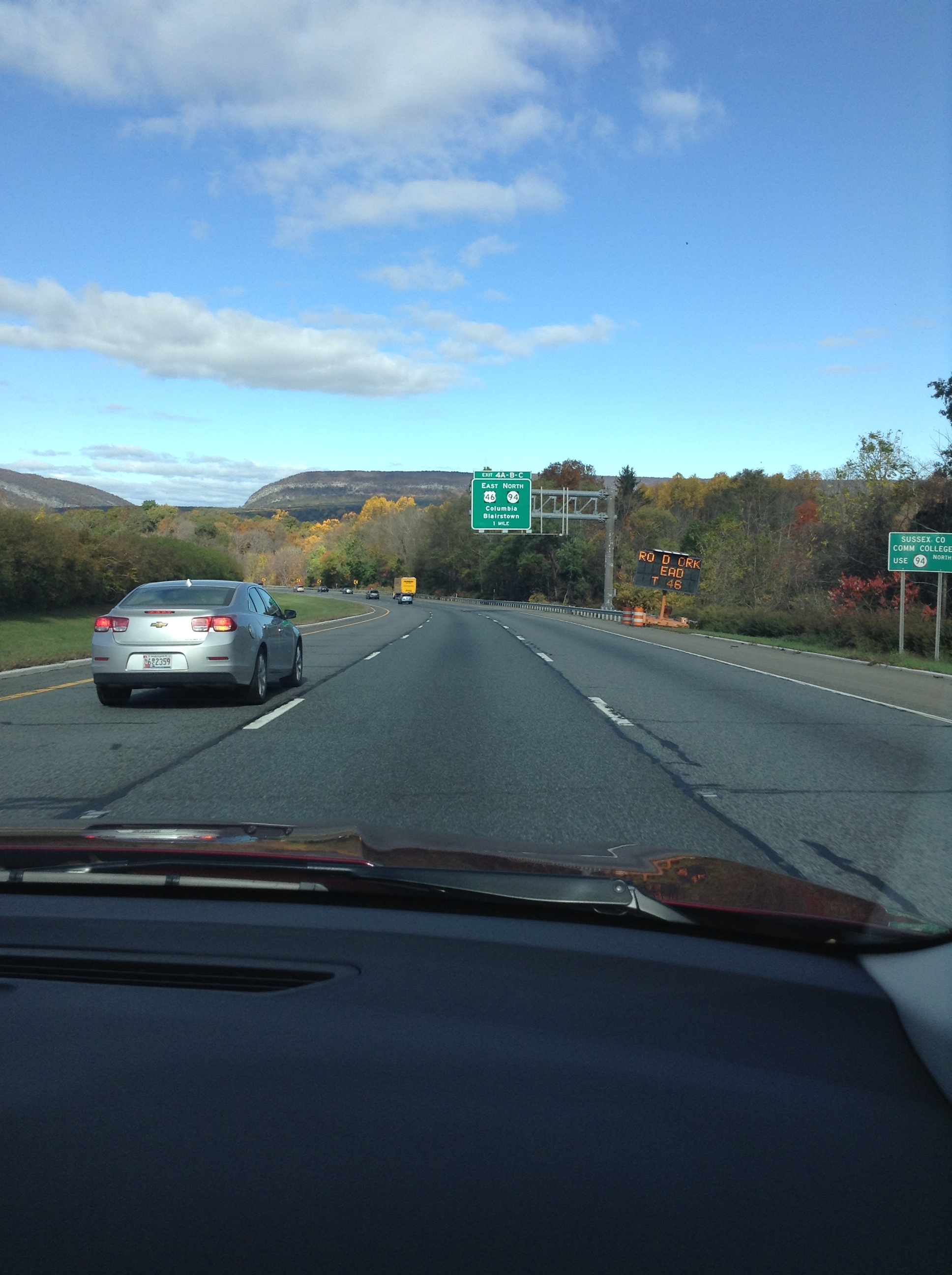 One of the things we hadn't been prepared for was the fantastic Fall colours. We knew all about leaf peeping in Vermont but as we drove from New York the roads were edged with a magnificent show of autumnal colour. No pictures I have taken can do it justice.
It's about 260 miles from New York to Montour Falls and we arrived about 2pm.
We checked into a bed and breakfast inn called Absolute Heaven at the Cook Mansion. The Cook family in the 1860s had been extremely successful and built a large Victorian style house.
We were given a warm welcome by the family headed up by Carol, who now runs it as a B&B. The inside of the mansion is stuffed with antiques and objet d'art. Our bedroom was a vast room on the ground floor called Jerusalem Room. It had a large bed and lovely antique chairs and tables and a very modern coffee maker that made terrific coffee.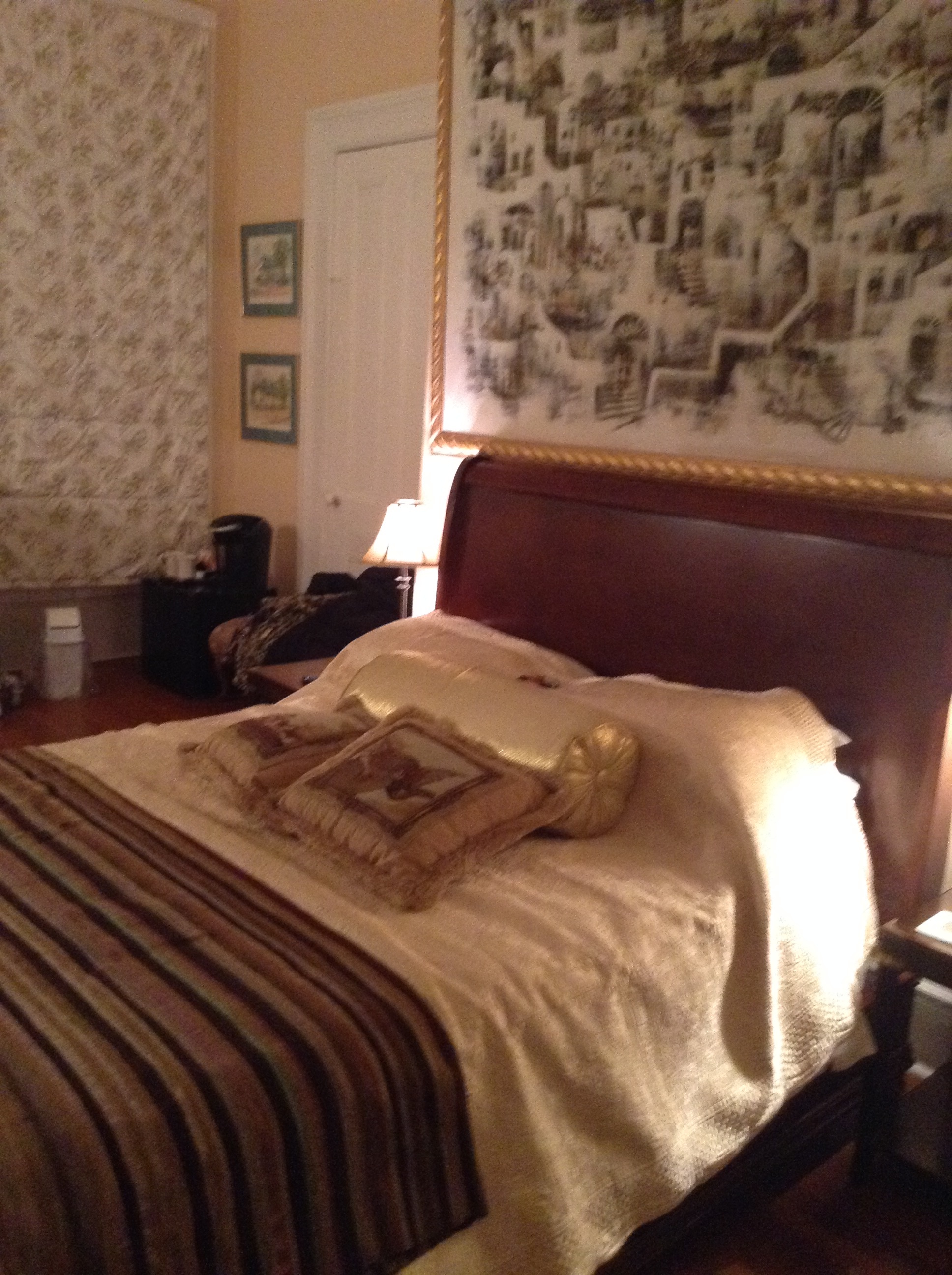 The bathroom was equally individual with a huge tub that must have dated back to the 19th century.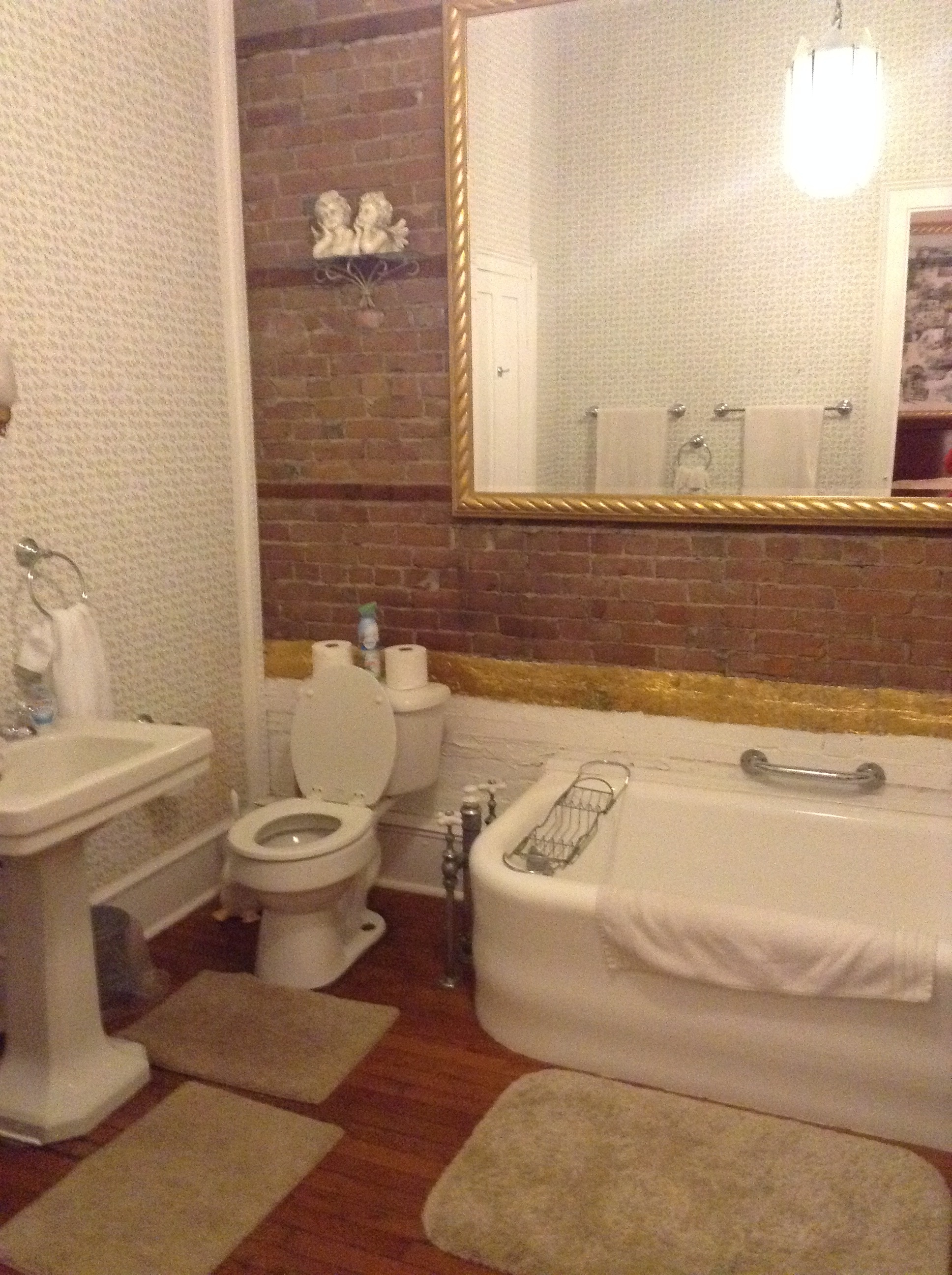 Before leaving the UK I had sent out emails to all the local media and Jennifer Sheahen from WENY News made contact while we were in New York and we made arrangements to meet at the Cook Mansion when we arrived. She was due at 3pm and so we went for a drive around the area.
Montour Falls as it is now is a pretty community of large elegant clapboard houses and some grand brick buildings. At one point it had been the county seat but after the death of the Cooks it lost it to Watkins Glen.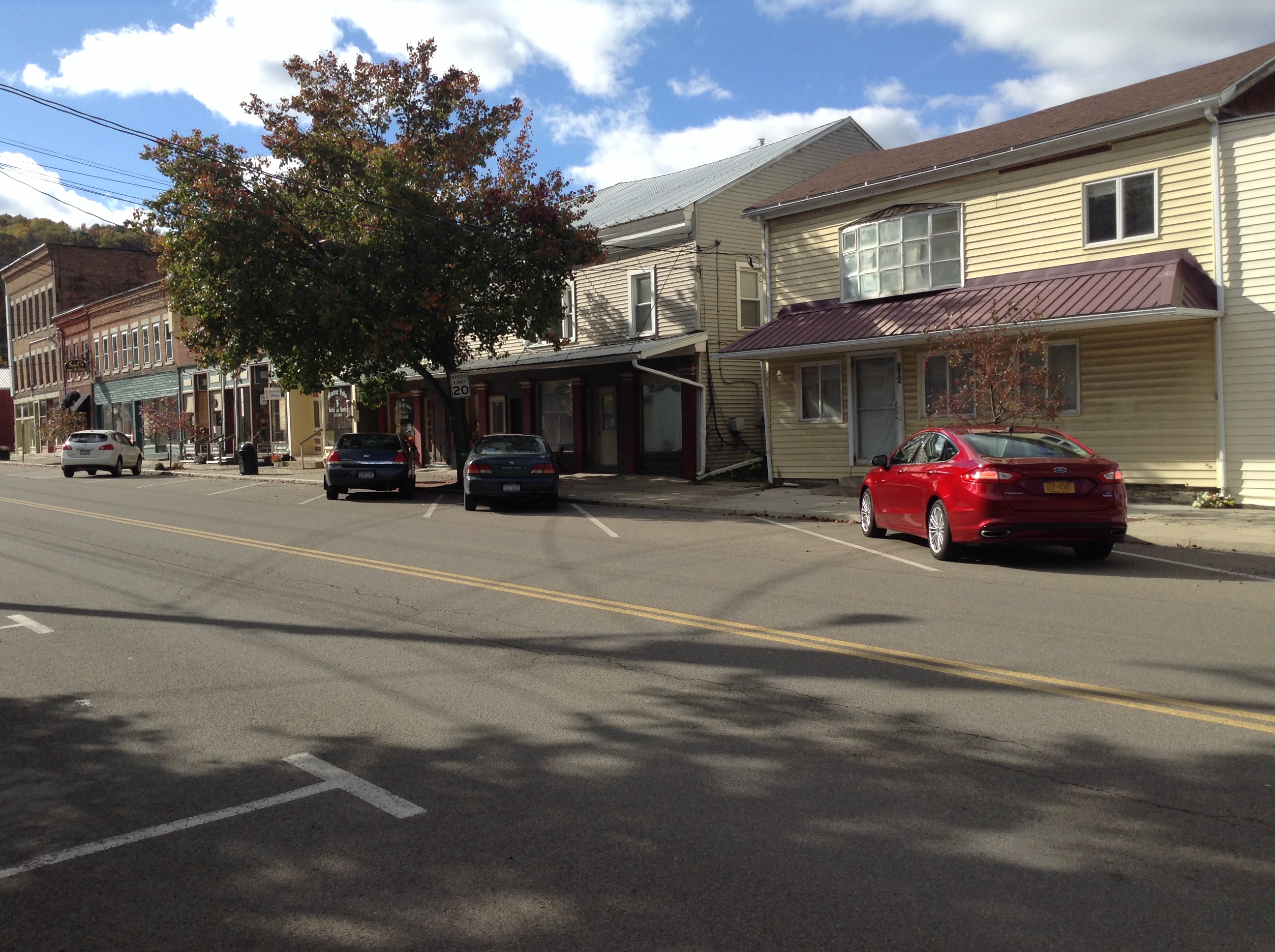 The picture above is of the main street in Montour Falls with our red full size Ford – which is extremely comfortable when you are travelling so many miles.
One of the other things I wasn't expecting was the almost obsession with Halloween. The shop windows were all decorated with goulish models and houses front porches are decorated with ghosts and beautiful big orange pumpkins are everywhere.
We stopped off at the local cafe/bar – Sals' Bar and Grill - and as it appeared to be the only place in town that was open we had a drink and a snack. Paul had a cheese beer soup which neither of us had ever heard of before.
Then we returned to Cook Mansion arriving at the same time as Jennifer.
Jennifer turned out to be a pretty blond girl who looks remarkably like Helen Skelton, the charming and brave, former Blue Peter presenter. Jennifer is an anchor with the local tv station and has created a location based show called Twin Tiers. Fortunately gor me she is enthusiastic about family history.
We checked out with Carol that it was OK to film in the house and Jennifer set up the camera and tripod.
Then she filmed me in the elegant sitting room about my travels and Walter's adventures in the area and my appeal for more information about the area in the 1860s. When she had finished she said she wanted to follow my experiences in the area. So I told her about my hoped for meetings the next day with Andrew Tompkins, curator of the Schuyler County Museum and with Mary Ellen Kunst at the Chemung County Museum.
It felt so strange being interviewed. I am so used to being behind the camera and not in front of it.
I'd also been in touch with Zach Wheeler an anchor at the other local TV station. WETM-TV. We emailed each other and he booked me to appear on Tuesday morning. That meant getting up at 5.30am so that I could get myself presentable. But it would give us the whole of Monday to find out more about Havana – Montour Falls.
Once Jennifer left we decided to drive to Elmira to check it out because of the meeting set up with Mary Ellen Kunst there the next day at 2.30pm, as well as the crack of dawn live interview on Tuesday morning.
As I said, our other hoped for appointment was with local historian Andrew Tompkins who runs the Schuyler County Historical Museum based in Montour Falls. I had haltering communications with him because of the variable wifi on the ship and then at Cook Mansion, whose wifi kept on cutting out.
We returned from Elmira and parked the car up for the night. So that Sunday night we wandered at dusk to Montour Falls and looked at the waterfall.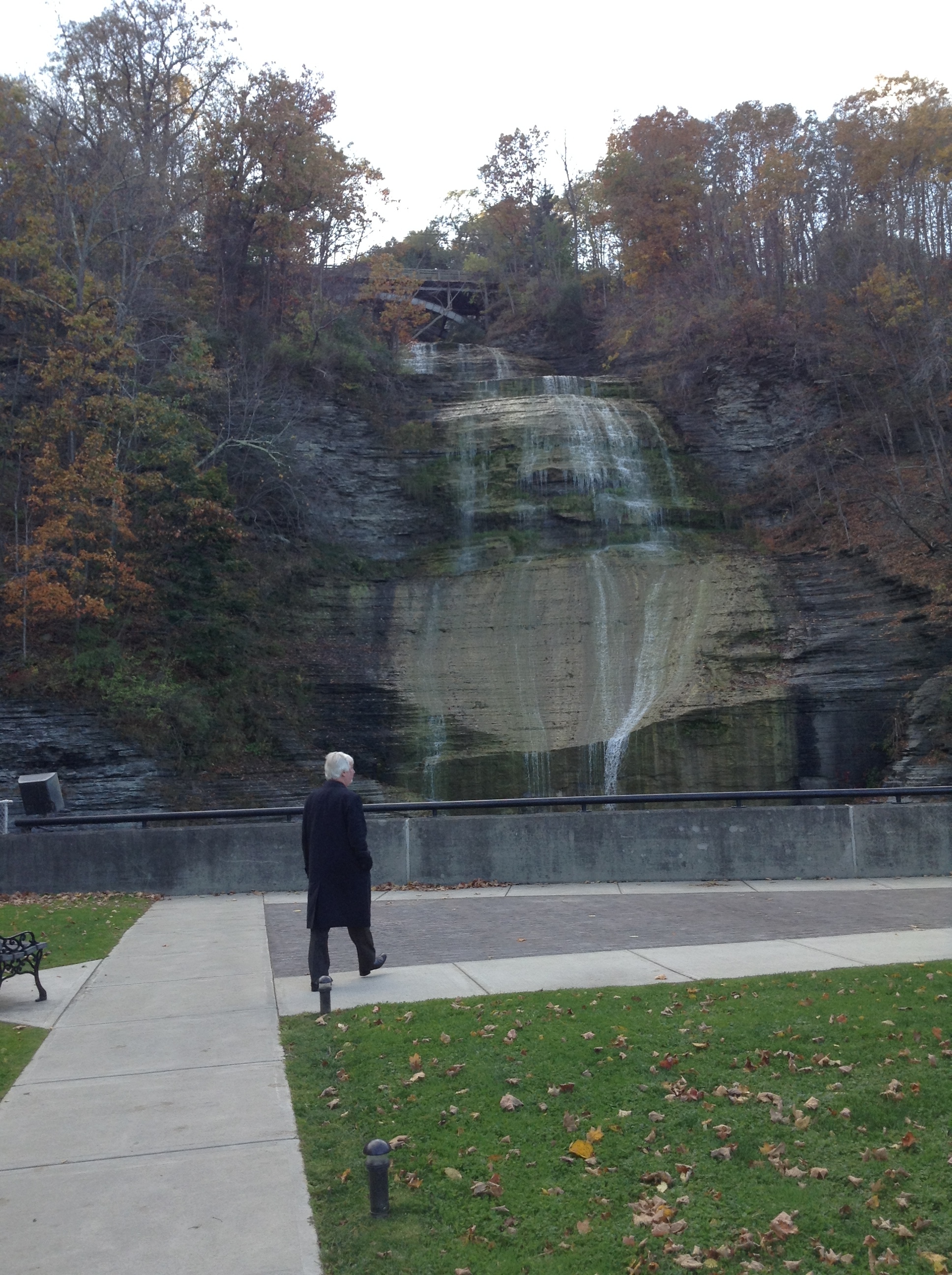 Then we walked the short distance into town to Sal's to eat, as we couldn't see anywhere else that we could walk to. But to be fair the welcome was warm and the food was fine. I had a chicken Caesar salad and a glass of Chardonnay. Paul had a pint of something and a quessilado and a side of French fries. This journey is doing nothing for my waistline!!! And it is expensive eating out for every meal.
We enjoyed the meal and walked back to the Cook Mansion, walking through the crunching leaves and admiring the neighbourhood with pretty clap board houses, many of them decorated for Halloween with spray cobwebs and pumpkins covering the steps to the front door.
My American mobile phone said there was a message but I hadn't worked out how to get it. It rang again and this time I answered, it was Andrew and we confirmed our meeting the next morning.
We arranged to meet at the Museum, a short walk from Cook Mansion at 11am the next day on Monday. Normally the Museum is closed but Andrew said he would come in as a favour as we intended to leave early on Tuesday for Buffalo.
And so, as Samuel Pepys would say 'and so to bed'. Tomorrow was going to be a big day discovering more about Walter's life in Havana as it was called in his day.
Montour Falls reveals Havana - next installment.
If you are enjoying this blog why not 'Like' our Facebook page?