Best New Digital Business
---
autodotbiography was awarded "Best New Digital Business" by Prince Charles' charity PRIME - Prince's Initiative for Mature Enterprise.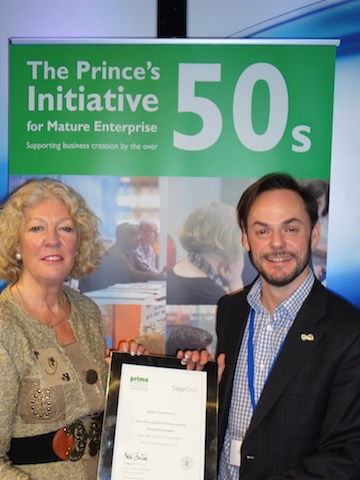 The ceremony was part of a conference on older entrepreneurs. It was fascinating listening to people of a similar age who had also risked everything late in life to start their own business. There were some things we all had in common. We are all passionate about the businesses we run. I started autodotbiography because I wanted families to share their stories and not have my experience of my beloved mother dying suddenly and having so many unanswered questions. I didn't want other families to be in the same position and I know that ghost writers were good but very expensive for most people. That is why I have tried to keep autodotbiograpjy as affordable as possible.
Another common experience was that it is exciting and terrifying in equal measure; as well as many people finding when they first start up that it is a very lonely experience. I have to say I don't feel lonely because I am surrounded by the most fascinating people's life stories which are inspiring and the calls I get from my authors are always interesting and valuable. Infact when some of my authors finish their books I am sad because it means we won't be in touch with each other's lives any more, but at least I know they have a beautiful book which will thrill their family.
So sitting on my desk is a lovely engraved glass award and on the office wall the silver framed certificate that says that autodotbiography is the Best New Digital Business. Remember to tell your friends and family that it is the perfect Christmas present.